What Rental Car Services Do We Offer?
Many companies use rental car services for daily commutes to their office, industrial parks, or even for leisure outings. Sufex Trading provides rental car services for either monthly (with yearly contracts) or on-the-spot use. We have a wide variety of vehicles with varying options that suit your preferences.
Features
Our rental car services come with experienced drivers, promising great service and safety for every journey.
■Safe and secure rental car service
■Bilingual Vietnamese staff support
■From sedans to mini-buses, we offer cars and various options on request.
Types of Vehicle
4 seater
CAMRY, LEXUS, BMW, Mercedes-Benz etc
7 seater
INNOVA, FORTUNER, SIENNA, TRANSIT VIP etc
16 seater
FORD TRANSIT, SPRINTER
BUS
29 seats, 35 seats, 45 seats
INNOVA
FORTUNER
FORD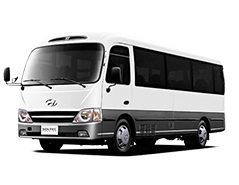 BUS
Service Charges
Daily Rental Fee
You can use this service for sightseeing in Ho Chi Minh City, out of the city, or for a tour of the industrial park.
We also have built-in Internet services for your car upon request.
VVAT not included
VAT not included
Rental Fee
1 hour over charge
1 km over charge

Airport Pickup

INNOVA
(7 seat)
1,550,000 VND
(74 USD)
72,000 VND
(3.4 USD)
7,200 VND
(0.34 USD)
750,000 VND
(34 USD)
TRANSIT
(16 seat)
1,850,000 VND
(88 USD)
80,000 VND
(3,8 USD)
8,000 VND
(0,38 USD)
960,000 VND
(45,7 USD)
CAMRY
(4 seat)
3,500,000 VND
(152 USD)
95,000 VND
(4,5 USD)
9,500 VN
(0,45 USD)
1,950,000 VND
(92,8 USD)
Daily allowed distance is 100 km
Daily car rental hours are from 8:00 AM to 5:00 PM (8 hours of use, including driver's 1-hour break).
Rental fee includes driver's fee, gasoline fees, and insurance fees. Parking, ferry, and highway rates are not included.
Sunday and public holidays are added to the basic rate. Please consult separately. Payment can conducted with overseas remittance, cash payment, and credit card. In the case of overseas remittance, please transfer to our account in US dollars, a separate fee will apply.
In the case of local payment, cash payment is required after use or during the stay.
US dollars (USD), Vietnamese dong (VND), or Japanese yen (JPY) are accepted as payment currency
We generally request payment at our company, but we can also process payments at your hotel or office.
One-Month Rental Fee
Easy and convenient everyday commute to your office, industrial park and elsewhere.
VAT not included
VAT not included
One month rental fee
One hour over charge
1 km over charge
Sunday usage fee
INNOVA
(7 seat)
32,000,000VND-/month
70,000VND
7,000VND
1,500,000VND
TRANSIT
(16 seat)
37,000,000VND-/month
80,000VND
8,000VND
1,800,000VND
※In addition, we offer a car plan according to your request. There are special contracts and discounts when you make a long-term contract.
The monthly limit is 2,600 km. Additional charges will be incurred every time you exceed 2,600 km.
Daily car rental hours are from 8:00 AM to 6:00 PM (9 hours of use, including driver's 1-hour break).
Rental fee includes driving fee, gasoline fee, and insurance fee. Parking, ferry, and highway toll fee are not included.
☆For more information on options and contract details, please contact us by email or phone.
Safety and Security Support System
Free Passenger Insurance Service
Through our partnership with WellBe, all of our monthly vehicles are covered by WellBe's passenger insurance and emergency call center services.
Detail-oriented Management and Bilingual Staff Ready to Support
In preparation for urgent and immediate responses, bilingual staff are always on-hand to provide customer service. Our management system is proud to be devoted to details including driver training and background checking, and regularly responding to customer requests. We are constantly striving to provide comfortable services.
Contact Us:

rentalcar@sufextradingvn.com
Call to
VN/EN/JP +84-(0)946-982-386 (Mr.Anh)
EN/JP  +84-(0)915-034-256 (Ms.Kikuchi)
Connect with us through LINE
LINE ID : sufextrading
Feel free to contact us:
Advance consultation, inspection appointment, and schedule adjustment are all free of charge.
If you are considering Vietnam as your next opportunity, please contact us.